I am so sick in tired of watching viral videos of drunk people throwing axes at wooden walls that are 5 feet in front of them. People tell me "that they are so much fun" or that "they are actually super safe", which I beg to differ. Every other day I see a video of some chick tomahawking an axe at the wall and then the axe ends up, shocking I know, flying back while everyone behind them ends up ducking for cover.
Honestly I mean if you truly want to throw an axe how about just go find a tree and throw an axe at it for free and risk yourself and not anyone around you.
You know what's also really annoying about these places is that they are literally going up everywhere. Right by my apartment they are putting in one of these Axe throwing bars where there should be a Starbucks and those actually do need to be everywhere.
Plus since it's a bar that usually means alcohol and when there is alcohol it's not pretty. Most people would say weapons and alcohol don't mix very well.
For example, when was the last time sharp objects and alcohol were involved where there was a happy ending? Not many to be honest, I've seen the 'Red Wedding' and it's not pretty.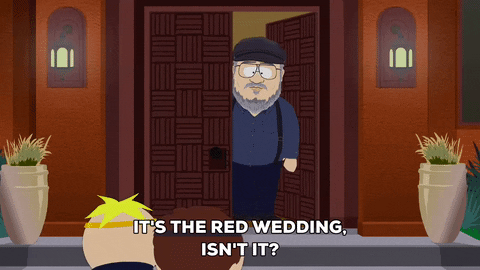 So do yourself a favor and stop supporting these places before they end up being in every single bar like a dart board.